Yokohama Kodomo-no Kuni "Yokohama Children's Country". Farm and Children's Zoo. You can also go by bus from "Aobadai Station".
The degree of recommendation of [Yokohama's Kodomono kuni] is 4.0!
"Children's nation" recommended for families with children
 
The degree of recommendation of [Yokohama's Kodomono kuni] is 4.0! 
Annotation "Kodomono kuni" means 「child's country」
 "Kodomono kuni"
 
 http://www.kodomonokuni.org/
 
Place:
700 Nara-cho, Aoba-ku, Yokohama
From the Denentoshi line "Nagatsuda station"
Kodomonokuni Line 2 minutes on foot from 'Kodomonokuni Station'
20 minutes by car from Tomei Express "Yokohama Aoba IC" and "Yokohama Machida IC" respectively
 
map:https://goo.gl/maps/otEFf(Google Maps)
 
Price:
Adult / high school student 600 yen,
elementary and junior high school student 200 yen,
infant (3 years old and over) 100 yen,
under 3 years old free
 
Parking lot:
900 yen a day (accommodating 1,700 cars)
 
Opening hours:
9: 30 – 16: 30 (Admission is until 15:30)
 
Closed:
Wednesday
 
 
Yokohama Kodomono-kuni Review
 
I have written a review article of "Kodomonokuni" two weeks ago, but since I went again, I added an article.
 
Please refer to the past two articles as well.
「横浜 こどもの国レビュー」
「横浜こどもの国・駐車場はかなり十分・1日で遊び尽くせない充実度」
 
 
Transportation circumstances to "Kodomono-kuni"
Kodomono-kuni line is good, but there is also a bus
 
When I wrote "I went to Kodomono-kuni with a Kodomono-kuni Line," Someone told me that "There is a bus too!"
 
We use the Denentoshi line from Shibuya. There are buses from "Aobadai Station" 2 stops from Nagatsuda station on the Shibuya side.
Because there are book stores and pet shops in front of the station in Aobadai station, people do not mind the time to wait for the bus. 
Certainly, there is nothing around Nagatsuda station, so it is a painful spot just to wait.
In the case of
However, there are only two buses in one hour depending on time, so it would be better to pick a good way to connect while checking the time with transfer guidance etc.
 
 
Nagtsukida station added this as June 16, 2016 added
 


The parking lots of 「 Kodomonokuni」was quite crowded
 
Last time On May 9th I went「kodomonokuni」 the parking lot vacant was .because It was cloudy weather on that day and it was a weather forecast that it will rain from the afternoon.
 
After 2 weeks May 23, the front parking was full as shown in the picture below.
 



 
Also, although there are no pictures, there are also many cars in temporary parking lot (bokujyouguti parking lot). Since it is a good season to go play in the future, it is better to go as soon as possible when using a car. .
Especially the time of the pool seems to be very crowded. 
 
Introduction of play equipment in 「Kodomono-kuni」
 
This time, I went to "Ranch", "Children's Zoo", "Cubic Land" where the play equipment became new. 
 
"yuki-jirusi" Kodomono-kuni farm
 
 "yuki-jirusi" Kodomono-kuni farm
 http://www.kodomonokuni-bokujyo.co.jp/
 
Kodomono-kuni farm is a ranch that is operated by companies of the
Yukijirusi Megumiluk Group in Japan.
Apart from Kodomono-kuni farm, there were also other sites.
 
Ranch is one area inside children's country. There is a barn so you can learn about milking. You can let cows and sheep eat food , and there is the "Moomoo dome" introduced in the last article. 
It is inside the barn.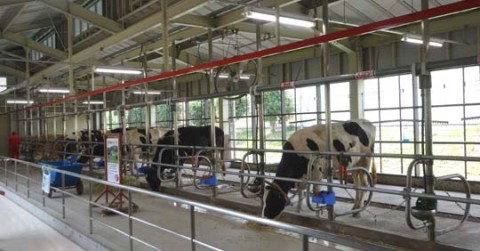 Some cattle are grazing outside.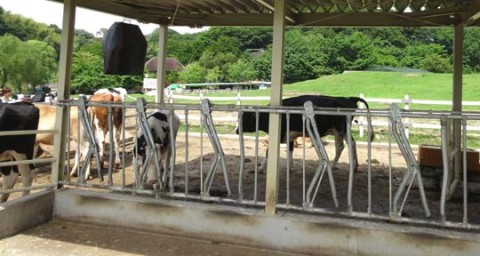 There are also sheep.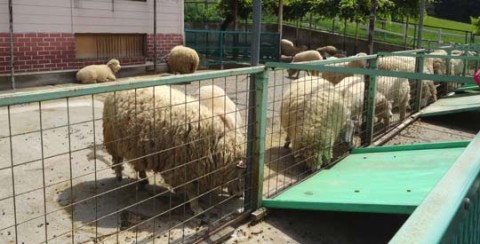 In addition, there is a calf shed. Experiences of milking with real cows, milking experiences using models, You can let cows and sheep eat food
Food is 100 yen per cup. The milking experience seems to have a limited number of people.
 
Also milk milked at a pasture, candy made with that milk, soft cream are on sale.
And next to the shop, "Momoji chan ??" is standing.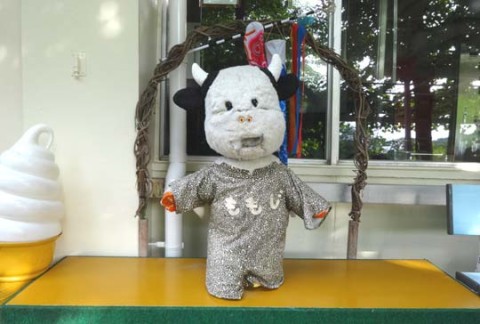 I ate a soft cream next to this Momoji – chan. Several children saw Momoji, but the reaction at that time was contrasting and interesting.
A small child said "cute." But as an elementary school student, "Wow" was a bit somewhat avoidable word. The reaction difference was interesting.
 
 
Children's zoo
 
Children's zoo is also one of the facilities in the ranch, but here entrance fee will be charged.
Adult: 250 yen, Child: 200 yen.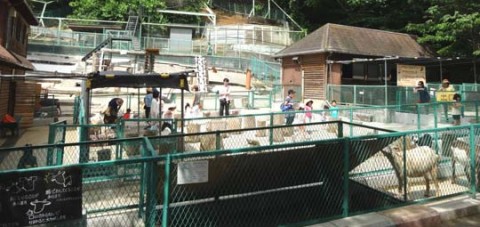 These animals are familiar animals such as goats, donkeys, geese, rabbits, chabos, raccoons and so on. It is also possible to raise food (50 yen per a cup), you can watch it closely, touch it, you can hug rabbits and guinea pigs.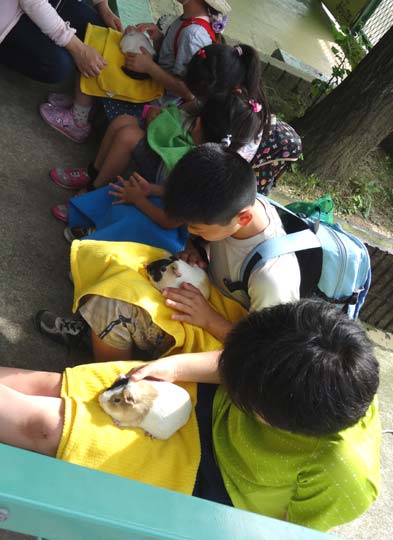 Cubic Land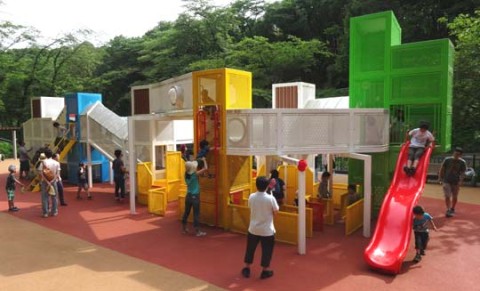 It is a play equipment just opened in March 2014.
 
It is on the north side of the ranch I introduced earlier. It is not far from the pasture, but it is in a place somewhat far away from the "fairy tale square" on the north side. When walking from the north side, this will be visible to the place where I walked the place where there is nothing for a while. Children who found this, ran to there !
 
Previously, there was a jungle gym of a box made of hexagonal wood here. it was rebuild playground equipment.
Even at the time of the former wooden box, it was a popular playground but it was a feeling that it became a more safe playground equipment.
 
However, the mesh of the net used for walls of playground equipment etc. is small. From the outside parent's perspective, I know that someone is there, but I do not know the face, so it is good to enlarge the stitch a little more for see the kid face.
From the outside adults, there was a situation in which children who are crying in playground equipment do not know who's kid, and even children inside can continue to cry because they can not find their parents.
 
As the stitches become bigger, you can recognize the height of the play equipment clearly, you may feel that it is scary if it is a small child. However, I think that parents and children can be relieved if they can see their face.
 
 
There are old-fashioned play equipment on the opposite side across the road.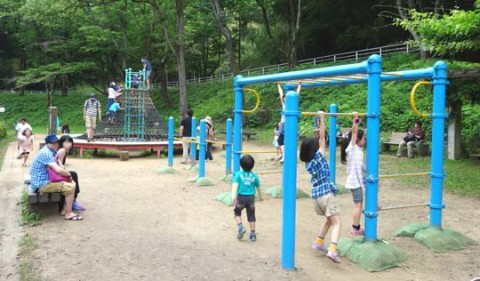 Ruins of ammunition warehouse in Kodomono-kuni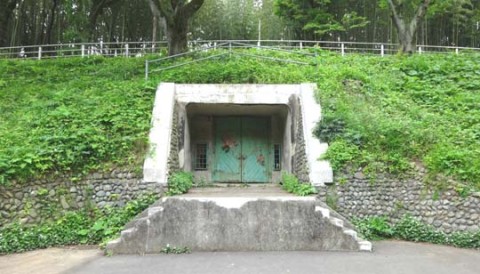 Near the cubic land there are ruins of ammunition warehouses used during the last great war.
For details please read the explanation of the official below.
The fact that the legacy of such war is in Kodomono-kuni is very
。
 
 http://www.kodomonokuni.org/m_guide/tanbo2.html
 
 
Red dove number(aka-poppo-gou)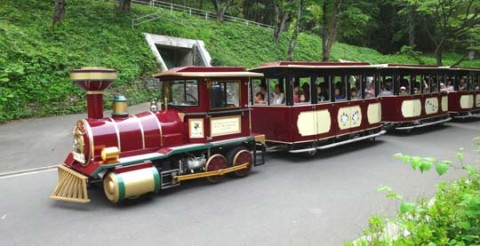 It is Aka Poppo gou(meaning Red dove)
which is making a lap around the park.
It is 200 yen per person.
 
It is a locomotive type bus that is traveling around the park.
For the people who went for the first time, it is good to get on the first place to know what kind of place there is because the garden is wide.
Besides, it is recommended when there are small children, and when you are tired.
 
Adults can also enjoy.
 
 
I am going to go to Kodomono-kuni with this condition.
About half of the places I have not seen yet are left, so I would like to continue reporting!
 
 
Field athletic Yokohama Tsukushino is also near!
 
There is an athletic facility called "Field Athletic Yokohama Tsukushino" in a position close to "Kodomo no kuni".
(In Japan, sports that go beyond some large playground equipment using the body are called "athletics")
I think that grade 2 to 6 grade are appropriate for elementary school students.
Therefore, it may be that the target age of play is higher than the Kodomono-kuni.
This place is also recommended.
 Field Athletic Yokohama Tsukushino can be played all day. Parking lot is free.
Thank you for reading to the end.
If you think that this article was helpful, I hope you can share it on social media!
Related article