Yokohama Kodomo-no Kuni(Yokohama Children's Nation). Parking lot is quite enough. A level of fulfillment that can not be played in one day
The degree of recommendation of Yokohama's "Kodomo no kuni" is 4.0!
Recommended for family with children "Kodomo no kuni"
 
The degree of recommendation of Yokohama's "Kodomonokuni" is 4.0!
 
 "Kodomo no kuni"
 http://www.kodomonokuni.org/
 "Kodomonokuni" introduced here means the country for children.
 
Place: 700 Nara-cho, Aoba-ku, Yokohama
From the Denentoshi line "Nagatsuda station"
Change to Kodomonokuni Line 2 minutes on foot from 'Kodomonokuni Station'
20 minutes by car from Tomei Express "Yokohama Aoba IC" and "Yokohama Machida IC" respectively
 
 map:https://goo.gl/maps/otEFf(Google Maps)
 
Price: Adult / high school student 600 yen, elementary and junior high school student 200 yen, infant (3 years old and over) 100 yen, under 3 years old free
 
Parking lot: 900 yen a day (accommodating 1,700 cars)
 
Opening hours: 9: 30 ~ 16: 30 (Admission is until 15:30)
 
Closed: Wednesday
 
Yokohama 'Kodomo no kuni' Review
 
I also wrote an article once in November 2011. However, since three and a half have passed, I write another article.
 
Please refer to the previous article as well.「横浜 こどもの国レビュー」
 
In addition, as a continuation of this article, please see the following article as well.「横浜こどもの国・牧場も子供動物園も。青葉台駅からバスも。弾薬庫跡も」
 
 
Transportation circumstances of "Kodomo no kuni"
 


 
This time I went to kodomonokuni by train.
I took the Den – en – toshi line from Shibuya station and transfer to Kodomonokuni Line at Nagatsuda station.
 
When it is examined by transfer guide, it will be displayed when you can go from Shibuya in about 50 minutes. But since the Kodomo no kuni line runs only three times per hour, it is better to properly look up the transit.
I think that it is supposed to be able to successfully connect with the semi express on the Den-en-toshi Line. But, like my family of this time, We thought that because I thought that we would sleep, and after taking a local train , it was just when the train left from Nagatsuda. . . It can be said that.Attention required.
 
 
The parking lot in "Kodomo no kuni"was vacant
 
By the way, the parking lot was very vacant.
It is during weekends of "GW" on May 9th, or after continuous holidays … It was such Saturday. In addition, the weather forecast says it will rain in the afternoon, so few visitors. The parking lot was vacant this day.
 
In addition, there are main parking lot and sub temporary parking lot in "Kodomo no kuni", there are 1,700 parking spaces. I went by car twice so far, but at that time I could park without any problems.
 
 
Introduction of play equipment
 
This time, I played with the "playground square" on the left just after entering the front entrance and the "bicycle station" near the entrance to the temporary parking lot side, so it is an introduction about that area. 
 
Playground with equipment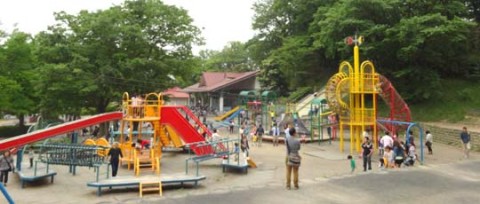 The playground square has plenty of play equipment for children like the picture above.
There are all kinds of play equipment in ordinary parks in this place.
I do not quite understand it in the photograph, but in the back of the right there is a big slide for elementary school students. There is a plaything called "Tarzan rope" from left to right near the photographing this picture. Children can hang around the rope connected to the wire and slide.
 
My daughter was having fun with this place alone for about 2 hours.
She started eating lunch, but if not, I think that she kept playing more and more. 
 
Freedom square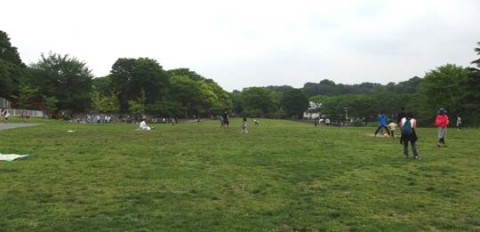 Between the playground square(yuuguhiroba) and the central square (cyuuouhiroba) there is a square like the one above.
We spread a leisure seat here and ate lunch.
 
Similarly there were people who are eating lunches, people playing balls, frisbee, badminton and so on.
 
In Central Park, the concert of the brass band of the middle school in Yokohama city was also held, and we had a relaxing time with meal while listening to the performance.
 
 
Mini SL named Sun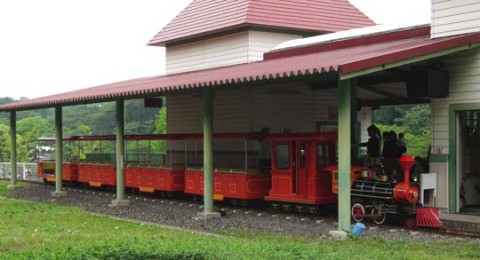 The Japanese emperor also got on board, a mini SL named "Sun". (At the bottom of this page) http://www.kodomonokuni.org/kyokai/whats005.html
 
It is located adjacent to the playground square.
The usage fee is 200 yen per person. It is 5 minutes to make one lap. 
 
Suspension Bridges / Green Fair Square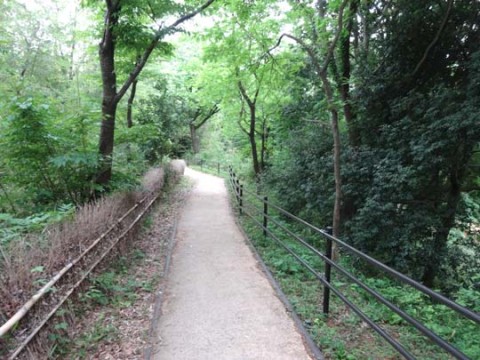 The Ryokuin Square and the suspension bridge are located almost in the center of the park.
 


 
Children's country itself is a park lying in a very lush nature, but in the middle of the park there is a mountain path with more greenery, and there are suspension bridges etc. I can feel the refreshingness of fresh green at this time I will.
 
Unlike other places it is a very quiet place.
 
However, there are mountain roads and stairs that are not paved, so you can not go on a stroller or a wheelchair.
 
 
Bicycle station
 
http://www.kodomonokuni.org/norimono/bicycle.html
 
There are a cycling course that rents a bicycle around the park, a roller coaster type rolling cycle, a heli cycle that runs parallel to the rolling cycle, and so on.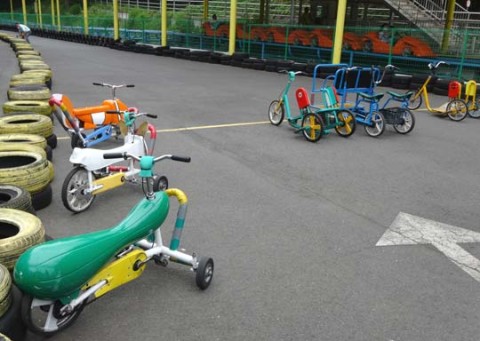 In such a situation, what my daughter liked was "Fun Bicycle".(omosiro jitennsya)
 
There are various kinds of interesting bicycles like the photo above. Many are the ones that remodeled the bicycle into a tricycle. Bicycles that go forward by stepping to the left and right, bicycles that move forward when applying weight, bicycles that go forward when stepping on the left and right pedals at the same time, bicycles that the saddle moves up and down according to the pedals. You can ride a funny bicycles that is not elsewhere.
 
The time limit is 10 minutes and you can enjoy while changing to various bicycles every lap.
My daughter kept on getting on some bicycles in a sweat.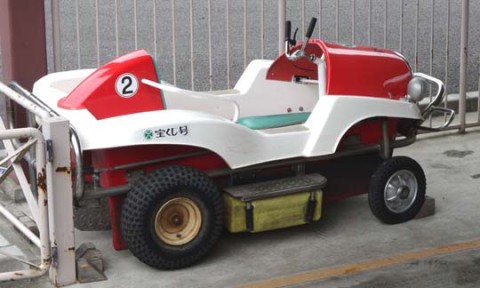 Personal recommendation is the "challenge cycle" above.
 
It is an amphibious dream ride.
 
The land portion can move by moving the tire and the blue portion on the left side is the part with water, but the screw rotates and moves as a boat.
It is a dream ride.
 
I may not feel it widely one lap, but if one with less exercise gets on, my feet will be bumpy in one lap (laugh).
Challenge cycle to diet? Is it? 
 
By the way, the bicycle station is charged, all 150 yen adults and 100 yen children.
There are also 1,000 yen tickets available for 1,100 yen. 
 
Moo moo Dome


 
At the southeast end of the park is the MooMoo dome.
The eastern part of the park is a pasture, but it is in one corner of the ranch.
 
In Showa Memorial Park, it is offered under the name "fluffy dome"(Fuwafuwadome), but it is like playing equipment like a trampoline in the shape of a mountain that flying or bouncing, which is increasing recently.
 
Children's country is divided between the dorm for kindergarten children and the dome for elementary school students, accident prevention has been done.
 
My daughter was also playing with favorite dome for about 30 minutes, but it has stopped reluctantly because park was closed time. 
 
Comparison between [Kodomonokuni] and [Showa Memorial Park]
 
I also wrote in the last article, but I tried again to compare [Kodomonokuni] with [Showa Memorial Park].
 
Both are similarly parks in nature, a very well-managed and easy-going park.
There is a child playing facility, there is also a spacious grassland, places to eat and toilets are also clean, so both is a recommended facility.
 
However, as it is also known from the name, "Kodomo no kuni" is a park that is made for children to enjoy and play, so for children it is more fun for "Kodomo no kuni."
Because there are various playground equipment, I feel like I can play all day.
 
Conversely, "Showa Memorial Park" has play equipment, but "Kodomo no kuni" is superior when compared only with play equipment, but you can run around with friends through wide plaza, enjoy woodworking, play balls From around elementary school students who feel like doing it, Showa Memorial Park is also a fun park.
Moreover, it is a feeling that it is a place of relaxation where people of a wide age can enjoy from children to adults.
 
 
In the last article I compared the case of going by car. In the case of going by train, Showa Memorial Park can go from Shinjuku without transferring, and it is attractive if you can get on "Oume Limited express" 、well in about 30 minutes.
 
Both parks are located in the immediate vicinity as they got off the train station, so it would not be a pain to go by train.
 
 
For articles about Showa Kinen Park please refer to the following.
 国営昭和記念公園・こどもの森・レビュー
 国営昭和記念公園・レインボープールレビュー 2014年版・追記あり
 
 
Field athletic Yokohama Tsukushino is also near!
 
It seems that second grader – sixth grade students are appropriate age, so perhaps a little older age than "kodomono kuni" is. But this is also a recommended spot.
 Field Athletic Yokohama Tsukushino can be played all day. Parking lot is free.
Thank you for reading to the end.
If you think that this article was helpful, I hope you can share it on social media!
Related article