How to enjoy tomorrow with great advantage.Tickets to Yahoo auctions and gold certificate shops!
Recommended score of Toshimaen is 3.5!
Basic information of Toshima-en
 
Water and green amusement park · Toshimaen
http://www.toshimaen.co.jp/
 
Place:
Seibu Ikebukuro Line "Toshima-en Station" 1 min on foot
2 minutes on foot from Toyoshima Station on Toei Oedo Line
 
Address: 3-25-1 Mukaiyama, Nerima-ku, Tokyo
 
Map:https://goo.gl/maps/oAsak(Google Maps)
 
Price:
Entry fee (only for entrance to Toshima-en)
 Adult (junior high school student and above): 1,000 yen
 Child (3 years old to elementary school student): 500 yen
Vehicle One-Day Ticket (Entrance + Vehicle Free)
 
Adult (junior high school student and above): 4,200 yen Child (3 years old to elementary school student): 3,200 yen
Kids' one day ticket (entrance + attractions limited type)
Adult (over 20 years old / for attendance) ¥ 2,700
Child (less than 110 cm tall / required attendance) 2,200 yen
※ Rates include tax 
Parking lot: 200 yen for 30 minutes. Maximum 1,500 yen a day.
Motorcycle 500 yen per day.
 
Opening hours:
10: 00 – 16: 00 (weekdays)
10: 00 – 17: 00 (Saturdays, Sundays and public holidays)
10: 00 – 20: 00 (Illumination day)
※ Pool period is different.
※ For details, refer to the following sales calendar.
 
http://www.toshimaen.co.jp/information/calender.html
 
Closed:
Tuesday, Wednesday
 


What is Toshimaen?
 
Toshimaen is an amusement park of Seibu Group in Nerima Ward. 
Among the 23 wards of Tokyo, famous for this "Toshimaen" is a large leisure pool that holds several pools in one place. It is also the facility where the first flowing pool in Japan was made.
In addition, it is famous for Japan's oldest merry-go-round "Carousel Eldorado" which is also the oldest amusement park in Japan, and has introduced numerous first attractions in Japan.
 
 
There are two ways entering 「Toshimaen」 + to enjoy attraction.
1, Purchase the entrance tickets and purchasing attraction tickets individually
2, Purchase a free pass that the entrance ticket and the all-you-can-get ticket became together
 
 

This is advantageous "Toshiman" tickets / ticket shops · Yahoo auction
Toshimaen's advantageous tickets
"Mokuba no Kai" How to buy Free Pass
 
If you go to Toshimaen, I strongly recommend you purchase the free pass one day by ticket shop or "Yahoo auction".
 
 
Toshiman has a corporate member called "Mokuba no Kai". (There are also individual members)
There are many corporations participating in it, and a lot of corporate tickets are circulating.
 
If you buy a ticket for that "Mokuba no Kai" at a ticket shop or Yahoo auction, you can play as much as you want on a day very cheaply.
 
This time, I bought it for 1,180 yen at a shop in the ticket shop in Shinjuku West Exit on November 1. (Only 1,180 yen was one shop, it was extremely cheap here.)
Tickets for children do not exist, but this ticket itself is cheap, so I purchased the same thing including children's.
 
This time, 2 parents and 1 child are 3,540 yen. It is about the price of one regular a child. If you know the appeal of a cheap ticket, you may be not able to buy a ticket at a regular price anymore.
 
 
In "Toshimaen", I saw people buying tickets on the spot to get on the attractions. I also felt a bit sorry. . .
 
 
By the way, in other shops in Shinjuku West Exit, it was 1,400 yen to 1,500 yen, in Yahoo auction it was around 1,200 yen. If you have time to wait for tickets to arrive, Yahoo auctions are often more advantageous.
 
 
Toshimaen 's great deals ticket – Mokubanokai Free pass deadline
 
The tickets of the Mokubanokai are bounded by the deadline every three months.
It is every 3 months from December to February, March to May, June to August, September to November respectively.
 
As a result, the price will gradually decline as it approaches the last month of the deadline, so if you go to buy at the timing when the deadline approaches, you will be able to do better shopping.
There was also that, this time I went to buy in November, but as the end of November comes closer it will become even cheaper.
 
However, there are times when it is sold out when going to buy just before it, rain falls and it can not go as planned. So it is necessary to judge the timing of purchase around that part. 
 
Toshimaen's cost performance
 
The business hours of Toshimaen are as follows.
Weekday opening hours
10: 00 ~ 16: 00 (6 hours)
Saturday / Sunday / holiday opening hours
10: 00 ~ 17: 00 (7 hours)
Illumination (night sales) period
10: 00 ~ 20: 00 (10 hours)
 
Ticket price for 1 day free pass is as follows.
Adult 4,200 yen
Child 3,200 yen
Therefore, the cost per hour is as follows.
Weekdays Adult: 700 yen Child: 533 yen
Saturday and Sunday adult: 600 yen Child: 457 yen
Knight adult: 420 yen Child: 320 yen
 
 
On the other hand
The opening hours of Tokyo Disney Land are as follows.
Weekday other than the top season
9: 00 ~ 21: 00 (12 hours)
Saturdays and Sundays
8: 00 ~ 22: 00 (14 hours)
 
 
Ticket price for 1 day free pass is as follows.
Adult 6,400
Child 4,200 (elementary school student)
 
Therefore, the cost per hour is as follows.
Weekdays Adult: 533 yen Child: 350 yen
Saturday and Sunday adult: 457 yen Child: 300 yen
 
How, Disney Land has a high ticket price, but because the time you can play is long, the cost performance is high!
 
 
Well, if I go to Disneyland, I will buy goods and go eat, so spending in the park is the victory of Disneyland. (Bitter smile). . .
 
 

Toshimaen's attractions
 
Toshimaen 's attractions is on the following page.
 http://www.toshimaen.co.jp/atraction/list.html
 
Roller coaster "Cyclone"
 
My daughter's best favorite is the roller coaster "Cyclone".
Since about a year and a half ago ,she got to love the roller coasters since she became able to ride a Disney land coasters, but it seems that it did not change even if she tried it at Toshimaen.
So, we rode seven times continuing just before closing, and we rode a total of 11 times.
 
Since it is 500 yen per time, if you buy a ticket every time it is 5,500 yen.
Maybe I could recover my investment (laugh)?
 
 
Athletic Children's Forest
(Annotation: Sports that overcomes some of the installed playground equipment using the body is called "athletics" in Japan)
 
 



 
The next thing I liked would be "Children's Forest".
This is like a athletic plaything with a little sense of luxury in the park.
 
Children love such places. My daughter was playing for more than an hour. There were attractions that have not yet gone, so finally I could move to other vehicles by saying "I have other interesting rides". My daughter always plays with two hours, three hours in such a park. So, we may not have to go to "Toshimaen". . .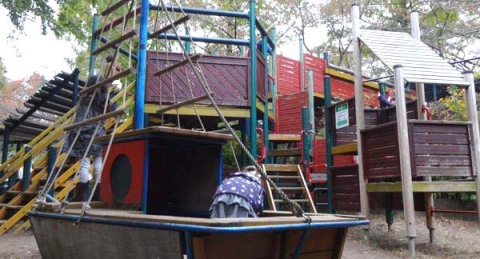 Mini Zoo "Fureai Pet Garden" = "Contact Pet Garden"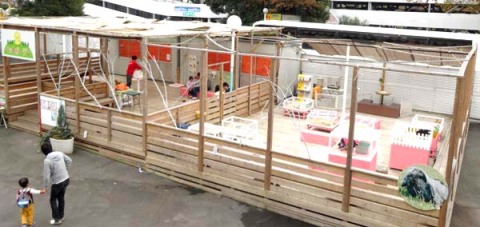 Perhaps, my daughter  favorite may be a mini zoo "Fureai garden " .
She was saying "I want to go here!" From the beginning after entrance. But as a parent I had a feeling that she would not get out of it when she entered here, so I intentionally began to turn around from another attraction. As expected, after entering here I eventually stayed here until the closure of this zoo. About 2 hours .
 
I feel again here … If the purpose is to play with animals, I wonder if it is OK at the " Fureai corner" at Ueno Zoo. It sounded like that.
The Ueno Zoo is more reasonable (bitter smile). . .
 
By the way, I can not use Free Pass here. Both adult and children need 600 yen per person. In addition, the ticket of "Mokuba-no-kai" will be 100 yen discount.
Once you pay the fee, you can enter and leave as often as you like and there is no time limit.
 
 
Troika
 
By the way, my daughter seemed to like "Troika" in the attraction.
As the gondola on which the person is riding rotates, the pillar also rotates. Since the axis on which the gondola is turning gradually tilted, there was also a temporary floating feeling, she said that it was fun.
She got on it three times.
 
 
Height restriction of Toshimaen's attraction
 
There are many Restrictions on Height of Toshimen 's attraction.
In the case of
90 cm or more, 110 cm or more, 120 cm or more, 130 cm or more.
An adult attendance is required from 90 cm to 110 cm.
 
 
Restriction of 90 cm or more.
and 90 cm – 110 cm = It is about the attraction for children that adults need to accompany.
Restriction of 110 cm or more = It is a lot of coaster attractions.
Less than 110 cm = It is good to think that you can only ride for children's attractions.
 
Restriction of 120 cm or more =
Pirate ships, falling systems such as flying carpets, and large rotating systems such as wave swingers are eligible.
Restriction of 130 mc or more =
It is only an auto scooter.
 
 
For that reason
Kindergarten children less than 110 cm = limited ones that can not ride and stress builds up.
Elementary school first grade less than student 120 cm can not ride what you want to ride . 。。。The such situation occurs.
 
So
It is good to go out after checking the height of the child.
In the case of child's height barely , it may be good to try stuffing on the heel of children's shoes. (joke) 
 
When I went last time, my daughter's height was not even 110 cm.
My daughter felt quite dissatisfied without almost being able to ride, but this time it is over 110 cm. We also had a strange confidence from that Disneyland vehicles can ride all, so I went with a thinkling that she be can ride almost anything.
 
However, the daughter's height is 118 cm!
… It was sorry that she could not get on some of the attractions that she wanted to ride again.
From now on heading for winter, by spring next year when it gets warmer, she will go again once her height grows by 2 cm.
 
 


 
By the way it is an attraction called "Euro 2006".
For children between 90 cm and 110 cm, adult attendance is required.
But this pink ball-shaped ride does not have a door etc and you need to ride from the front.
Children alone can ride, but adults are accompanied by surprises when they ride. It's full and full. "Do you really say that adults are also going to ride together?" . .
 
 
Congestion condition of Toshimaen


Next weekend of the three consecutive holidays in November.
The weather on that day was cloudy from morning and it was forecast that it will rain from around 21 o'clock. Maximum temperature was forecast at 15 ° C, which is 5 ° C lower than the previous day, so it may be because the customer's start was dull, but it was a lonely situation.
 
In fact, we did not have to wait in lines of attractions, there were attractions where there were only two pairs of customers on the ride.
From around 13 o'clock the cloudy sky has become somewhat lighter. Or because lunch time has passed, families have become a lot. Nonetheless, any attractions was not so long enough to make a long line.
 
After 16 o'clock, after the rolling roller coaster "Corkscrew" was closed, there was a slight row in the roller coaster "Cyclone".
Still it was enough to get on by waiting for two coaster operations.
Wait about 10 minutes, about 5 minutes per time.
 
 


Mystery zone of terror's horror
 
If you go to the Toshimaen of the night, I recommend you go to the mystery zone!
 
That is horrible it anymore! !
 
 
My daughter said strongly, "I will not ride", so I tried riding alone.
What is frightening?noone on behind and before, It is jyust only me in the hall is on this attraction. It you think so, will the fear not be doubled? (laugh). 
 
Transport circumstances of Toshimaen
 
Toshiman is a short distance from the Seibu Ikebukuro Line and the Toei Oedo Line Station.
It is a convenient place to go by train.
It is a casualness that it is 14 minutes from Ikebukuro station in the case of Seibu Line and 19 minutes from Shinjuku in the case of the Oedo line.
 
I do not understand how well the parking lot is crowded on the day when Toshimaen is crowded.
It is because it is easy to go by train so I never went by car.
If Toshimaen is vacant like this time, the parking lot was also vacant.
 
 
Illuminations of Toshimaen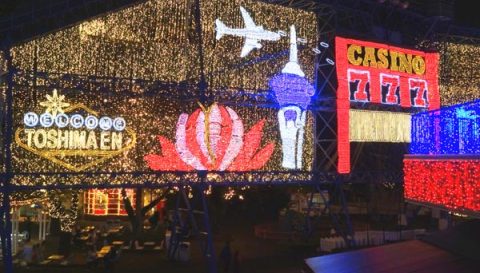 Toshimaen has deployed an illumination show as a nighttime business at the weekend of a specific season.
 
Arrange the illumination in the garden, flicker to the music, paintings will move according to the lines and lines like animation.
 
Illumination used a fantastic color shade, and there was also a scene that is giving a good atmosphere.
In the name "Illumination Circus", there was also an attempt to move it, but it was too bad that even the child got tired of it soon.
But, if the lover is coming on a date, somewhat may feel fun!
 
Although it is such illumination, the opening time was extended by about 3 hours thanks to the holding of the illumination event.
It is a pleasure to be able to get on the attraction using that time.
However, by 16 o'clock half attractions are over.
It is good to get on the attraction that ends before 16 o'clock early.
 
 
Toshimaen 's illumination reduces electricity bills?
 
I think that this illumination, in fact, is contributing to the reduction of electricity bills.
 
I think the light source used for illumination is probably LED.
That is because we can suppress the electricity cost in the first place, and because we can suppress the absolute amount of light by illumination.
 
Taking Disneyland as an example.
In the evening, in order to produce a nice atmosphere, they put the lights in everywhere, right? .
Therefore, there is no place that is dim and shadowy.
If you make it bright with a large amount of electric light, if the dim light does not reach the dim light and it has made a dim area,The guest said that "that place is dangerous because it is dim, is not it?"
In that case Disneyland needs doing some correspondence, I think.
However, in the case of illumination, if you say "This is a directing event, so it is okay for there to be a dark place!" I guess that customer can accept it if do not mind if it is somewhat dim.
 
 
Toshimaen's meal circumstances
 
There is a restaurant in Toshimaen's garden.
However, the contents of the meal inside the park feel regrettable.
In a bad sense, it is not delicious restaurant of the type that exists frequently in leisure facilities.
I think that I will pay this amount for this bad meal.
In the morning, if parents can afford, I think it would be better to bring your own box lunch and bring it.
 
Also, in front of Toshimaen's gate, there are restaurants, convenience stores where you left the station of Toshimaen, so you can procure meals there.
There are Starbucks and Macs, Families, Sushi rolls, Izakaya, so the general hope can be fulfilled.
 
However, re-entry is impossible.
you can not come back to eat lunch.
In order to eat for lunch you will only have to bring in what you take out. It will be enough to eat dinner after playing .
 
By the way, this time we ate "Hinono ya" and ate dinner and went home.
Although "Hinono ya" is a chain store, it was a pub with a good impression, but is not it a lack of employees anywhere in recent restaurants?
There are a lot of foreign sales staff, the words of the order are not understood, even though there is a wet towel, the customer side must be asked for get it. Even if I request a wet towel, I get only one . (Laughter)
Is this dish really served with this meal? … I feel sorry for the service on all of them.
 
The resutaurant may be a store for customers who visit only once, such as the families who return home. But since it is a chain store that exists here and there, I felt doubt that "Is this cheap service OK?"
 
 
Is Toshimaen for children?
 
Although Toshimaen is in the city center, it is a place where you can soak in a nostalgic atmosphere.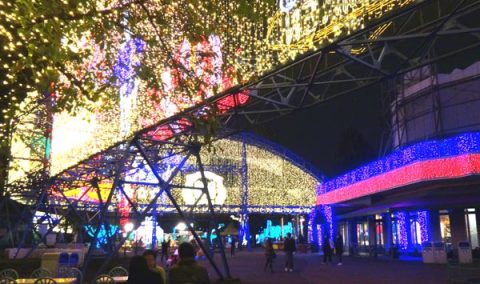 The part of the amusement park is an old amusement park.
The "Arakawa Yuuen([ amusement park)" which I went there a few years ago was more vibrant.
 
It is crowded because there is a pool in summer, can you operate as an amusement park? I get a doubt.
 
 
I think that the overall balance to the attraction is incomplete.
For children, attraction size should be small for children.
It should be makeing a mechanism of attraction that can ease the height restriction of 110 cm and 120 cm more. And for adults, I think that more full-fledged attractions like "Fujiyama" of "Fuji-Q Highland" are needed.
 
Daughter of elementary school first grade also said that "About the roller coaster, Disneyland is more fun than here," said.
Even if you say that the roller coaster "Cyclone" is fun, even a daughter who has gone ten times. . . is.
 
Disney Land attraction is to be able to ride on approximate attraction from height 105 cm. I feel that there is a mechanism to increase the satisfaction of children, making steep slopes, loose slopes, or lengthening the time they are on attractions while keeping the danger level low.
 
Large investment is necessary to make one large attraction.
It will be difficult to make a big change from now. I think that It have failed from the concept when I originally made it.
 
 
Summary of Toshimaen
 
There are various regrettable things … · · ·. However, I think that it was a very meaningful day, considering that it is only 3,600 yen for three family members to play all day from the morning and complete with it.
 
It can be reached from less than an hour from the house, and there is not much expense even in the park.
 
Let's get the free pass beforehand when going to Toshimaen!
Thank you for reading to the end.
If you think that this article was helpful, I hope you can share it on social media!
Related article