Commentary on how to fish at Ichigaya fish center. Even a child can catch it! Also parking information
Ichigaya Fish Center Review
Basic information on Ichigaya fish center
 
The recommendation degree of Ichigaya fish center is 3.5!
 
Ichigaya Fish Center
 http://www.ichigaya-fc.com/
 
Place: JR Cyuo Line ,JR Sobu Line stations, Toei Shinjuku Line, Tokyo Metro Nanboku Line, Tokyo Metro Yurakucho Line
A 1-minute walk from「 Ichigaya station」
 
 Map:https://goo.gl/maps/iyOHD(Google Maps)
 
Price: 【Carp fishing】
 
1 hour  Adult: 750 yen, Child: 430 yen, Student · Senior: 650 yen
2 hours  Adult: 1,470 yen, Child: 840 yen, Student · Senior: 1,270 yen
3 hours  Adult: 2,160 yen, Child: 1,230 yen, Student · Senior: 1,860 yen
* Every time the overtime exceeds 10 minutes, adults, students, seniors: 130 yen, children: 80 yen.
※ If you exceed 3 hours, the 1-day ticket is profitable and the following fee.
Adult: 2,800 yen, Child: 1,600 yen, Student · Senior: 2,400 yen
※For details, refer to the following URL
 http://www.ichigaya-fc.com/fishing/
※Rental fishing rod: 100 yen, Bait: 100 yen.
※"Child" is less than elementary school student.
※"Student" is a junior high school student ~ a college student.
※In the case of admission without fishing, the entrance fee is the same as those who fishing.
 
【Mini fishing】
 One person 30 minutes 400 yen
 ※Including the price of rental rod and bait.
 ※In case of admission not doing fishing costs are unnecessary
 ※Calculation every 30 minutes, you can take home 2 cats from the fish you caught.
 ※When taking home it takes 100 yen as bag, oxygen fee.
 
Parking lot: Free (accommodates 14 cars) 
Opening hours: 【Carp fishing】
 Weekdays from 9:30 to 20:00
 Saturdays, Sundays and public holidays 9: 00 ~ 20: 00
     【Mini fishing】
 Weekdays 12: 00-20: 00
 Saturday and Sunday public holiday 9: 00 ~ 19: 00
     【shop】
 Weekdays 12: 00-20: 00
 Saturday and Sunday public holiday 9: 00 ~ 19: 00 
 
Opening Period: Open all year round
      ※Business hours will be changed during New Year's holidays.
 
Related pages
 Ichigaya fish center
 
Ichigaya Fish Center Review
What is Ichigaya Fish Center?
 
The Ichigaya fish center is a fishing hole that can be seen from the train window of the JR Sobu line / Chuo Line, which is located just outside the Ichigaya station.
So, I think that there are many people who have seen something on a train.
 
I also knew that there is a fish center there since I began to live in Tokyo, but the other day I visited was the first time.
 
Ichigaya station is one of the stations in the middle of the city center of Tokyo where JR Sobu line, Toei Shinjuku line, Tokyo Metro Namboku Line, Yurakucho line will take in. This facility is such a fishing hole in the center of such a city.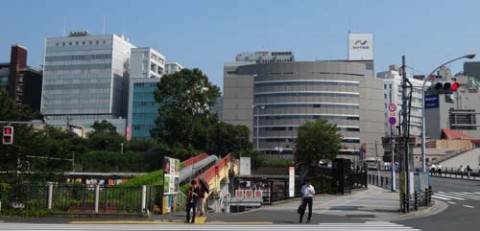 In the very beginning, there was an event organized by the municipality in the area where you live, for children, "Let's experience fishing at the fishing pond of Ichigaya." My daughter who participated in it went on to say "I want to go fishing again!" It was the reason that my family went to this fishing pond.
 
In the Ichigaya fishing center there are two fishing ponds.
Fishing a carp「Carp fishing」
Fish goldfish and small carp「Mini fishing」
 
However, it also sells rare fish such as carp and goldfish, familiar fish such as medaka and loach and tropical fish, reptiles such as turtles and newts and amphibians.
We also have tools such as aquariums and water purifiers necessary for breeding them, foods, aquatic plants and tools to remove chalk.
 
Although there is no fashionable feeling, it is a fun place just by having a good transportation and looking at the fish. 
 
Ichigaya fish center parking lot
 
There is a parking lot as the following feeling, so it is good to go out by car and buy what you need.
Parking fee does not seem particularly cost. Although I went twice, I did not feel like I went when the parking lot became full.
However, please be aware that the approach route is limited as it is the corner of the intersection where there are many car streets.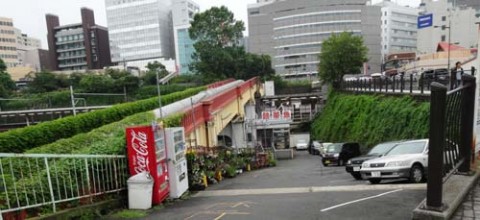 Recommended course of Ichigaya Fish Center
 
In the Ichigaya fishing center there are two fishing ponds.
"Carp fishing" and "Mini fishing"
Mini fishing is aimed at beginners, it is a fishing pit fishing goldfish and carp. Since the water is clear and the goldfish can see where it sticks to the food, it is a fishing pit just to understand the timing to pull the rod.
 
So it is better to try mini fishing once than try to try Carp fishing from the beginning.
 
The forefront is "mini fishing" and the back is the "fishing pit of" Carp fishing ".
For reception, mini fishing is in the shop on the far right and Carp fishing is on the left.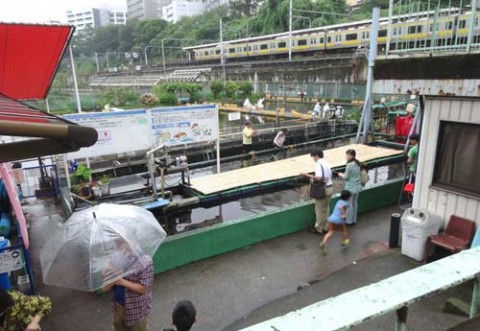 "mini fishing"
 
Mini fishing is a fishing spot where you can catch goldfish and small carp.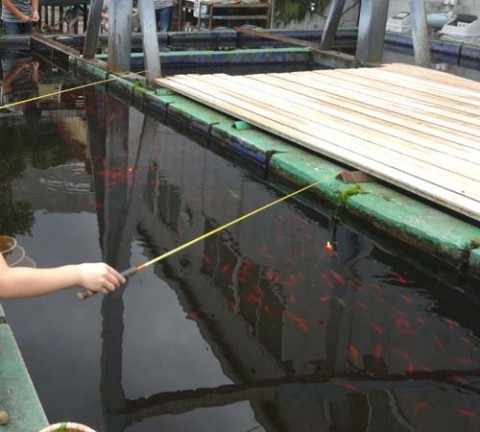 Although it is said that it is a small carp, it is much bigger than goldfish, and it is a fish that you want to aim at with the feeling that you said it is a big thing in that mini-fishing.
Conversely, in this place, we are also swimming small goldfish of "goldfish scooping" seen at festival shops. But, small goldfish can not swallow food attached to a needle, so fishing goldfish is quite difficult.
 
So, the goldfish that you can actually catch is as big as 7 ~ 8 cm, but you can taste the real pleasure of fishing the fish when you catch it, even though it is small.
 
 
Mini fishing fishing rod and feeding method
 
The fishing rod is a short one about 1 meter. In the case of mini-fishing, fishing rods and foods are included in the price and will be received at reception.
You can take Skari (net to hold fished fish) from the shelf in one corner of the fishing pond.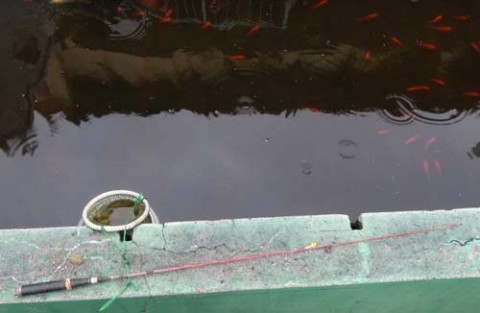 Feed is a soft bait.
"Please round this to a grain size of rice and attach it to the needle", but it is still big in the following photos as well.
If the food is big, the fish can not be sucked into the mouth. Fish can not catch just by eating food. So it would be a good idea to make it small enough to be attached to the needle.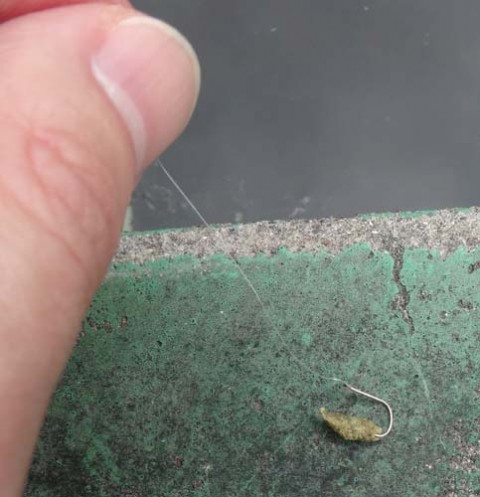 I recommend you to do mini fishing first
 
If you are not experienced in fishing, or if you are going to bring your first child, we recommend first trying this mini-fishing.
How to put food on the rod, fish bites to feed, fish sucks in food. There, a person draws a fishing rod. You can learn what time you can catch by raising the rod at which timing you can see the state of the fish. It is a fishing pit that a beginner can improve while enjoying it.
Anglers can see the fish, so it is obvious where to pour a rod with food.
 
Also, in the case of "Carp fishing", entrance fee will be charged in the same way even if you do not fish. However, "Mini-fishing" can pay as much as the number of fishing rods, so paying only for children, parents are good places to be able to enjoy together while supporting their children.
 
 
"Mini fishing" can bring home the fish you caught
 
"Mini fishing" can fish not only catch but also take home the fish you caught.
People who can keep goldfish and carp at home can not only buy goldfish and go home, but can also bring home after enjoying fishing. It is also ideal for such families.
 
Per capita you can bring two fish to home, every 30 minutes.
So, for example, if you enjoyed fishing for 1 hour with 3 people, you can take two fish, three people, twenty minutes twice = bringing up to 12 fish to the house. There are 12 fish .. quite a lot.
 
When returning the fishing rod at the reception, tell him to bring back the goldfish. Then you will be given a washbowl to sort out fish. The customer picks out the fish they bring back in this washbowl.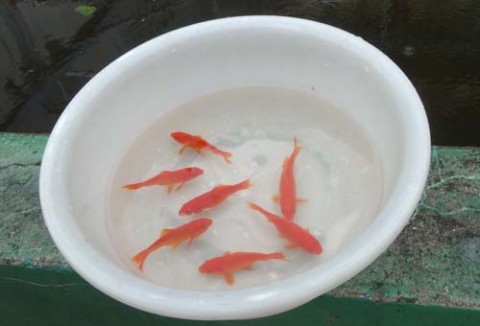 How many fish can you catch by "mini fishing"?
 
How many fish can you catch ?
 
When I went for the first time, I had 2 parents and 1 hour with one child. I could catch only 7 fish in total.
It takes about an hour to grab the fishing tips.
If this facility is the first time, it would be better to take longer time.
Since mini-fishing is a charge setting in units of 30 minutes, there is no problem even if it is a method of extending it every time if trying it for one hour.
 
We went to the same facility the following week. At that time, the weather was better than the previous week, and many people were fishing. Because of that, I could not secure the point where fish gathered easily.
But in the second half people decreased and I was able to secure good points and I was able to catch 10 fish in 30 minutes.
We caught 20 fish with three people. I feel I got better than the first time. 
【Lesson】
 
 It is important first to secure points with a lot of fish
 
It is also the reason why I got used to this facility, but again, unless we secure a place where fish gather, we can not fish even those with good fishing! I understood that.
Let's find the place where the fish gathers first and secure a place to catch!
 
 
Carp fishing
 
Certainly I am accustomed to fishing at this facility. But I can not catch it unless I secure "a place where there are many fish"! I understood that.
There is a point where fish gathers, so let's assure it first and secure a fishing place!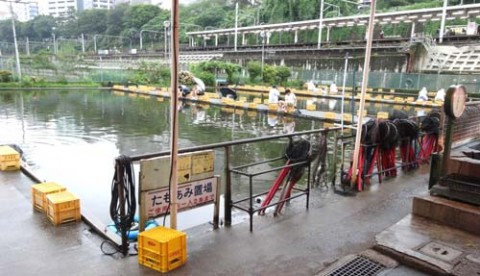 The fishing pond is divided into five in all.
Although the smallest pond seems to be a pond for beginners, I do not know which pond is easy to catch or hard to catch.
 
will post it for reference. First time. I fished it from the entrance by the second pond from the left. I spent an hour fishing with three family members. But the only fish we caught was a fish caught by my daughter.
Second time. Fishing in the pond for beginners in 15 minutes. After that, we moved to the leftmost pond in the back. Then 30 minutes passed. I was able to catch 3 fish alone by one person.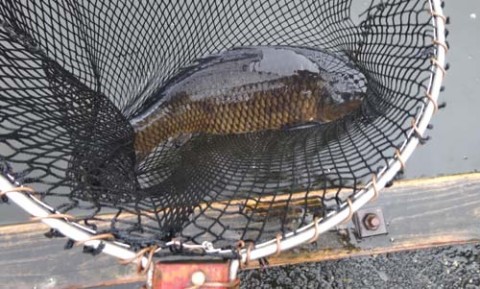 The carp which I actually caught in [Carp fishing] is like the photo above. It is about 30 cm to 50 cm, and it is about 600 g ~ 1 kg in size. But some people have caught bigger carp.
 
With this size, you can feel the bending and weight of the fishing rod when it hits. When fishing, there is a feeling of weight, fulfillment enough to say unexpectedly "I fished !!"
 
Even if you do not catch it is fun as it is, but the satisfaction when you catch it is many times that. Of course.
 
By the way, because it is a fishing pit, there is no return on the fish hook.
Even if the fish hangs on the needle, it will escape if you pull it slowly.
We need to be careful to raise the fish.
 
 
Carp fishing has long rod and short rod
 
"Carp fishing" has a long rod and a short rod. Users can freely choose either.
 
Personal opinion, I think short rods are good.
The reason is that the place where the carp is gathering is the wall side.
 
The only thing I write here is about two experiences. So, I can not affirm that humans can never catch fish in this way, but I caught three fish in about 30 minutes in this way.
 
Both short fishing rods and long fishing rods are about 2 m from floating to feeding. But with this it can not call fish much.
Moreover, since the fish does not come unnecessarily in the offshore, I think whether a short rod is sufficient.
 
The Japanese word "Atari" means that fishing rods and floats move as fish bite to food.
 
 
An example of how to fish a carp fishing
 
I organized the way I tried fishing in various ways.
 
Set the distance from float to bait to about 80 cm to 100 cm (change the position of float)
When you feed the fish into the pond, hang the fishing rod on the wall of your feet
The size of the bait is about 5 mm – 7 mm
The way to feed is like the mini fishing at the tip of the needle
 
The possibility of catching
The number of times carp tries to swallow bait x the probability of being successfully combined with suction
 
Therefore, without "Atari" originally (Carp swallowing the bait and moving the fishing rod), I can not catch it at all. Let's find a place where many fish gather by "Atari" to fish fish.
While you fishing you will be affected by the season, time of day, other angler's position and so on. If you do not have "Atari" you may change the place or change the depth of feed.
 
You can move the float position of the fishing rod. Let's make adjustments by yourself instead of starting fishing with the borrowed state.
 
When you set the bait to the place where you can see the bait (depth of about 50 cm), you can see that the carp baits the food.
Since a person can draw a fishing rod after a fish drinks food, a person can easily adjust the timing.
Moreover, it can be seen that carp comes by, so you can prepare to match.
 
This method was good with that, but there are not absolute numbers of carp that will rise to that depth, so there are times when there is no Atari at all.
 
So next time, a bit more deeply. I tried to hang the position of the bait to a depth of about 80 cm, which is invisible to people. Then, the number of Atari increases at all than when it is shallow.
It was a situation where fish could catch from next to next, as soon as I gave bait, atari coming.
 
Even in such a situation, I am still poor at fishing. Actually caught was three minutes in 30 minutes, but the number of "Atari" was amazing.
First time. I threw the bait to a slightly distant place with a long rod. There were differences in the number of "Atari" as much as heaven and earth.
 
It is a result report that I tried variously. As I wrote in the beginning, it is good to haunt a shallow place on the wall of my feet! I thought so. 
 
Sometimes carp is gathering near the surface of the water as shown in the picture below.
The carp is definitely in the pond a lot. The thing that "Atari" can not be felt is that there is no carp there. Let's find the place where the carp is.
Even if you wait 3 minutes, if you can not feel "Atari" there is no carp there!
Crowding condition of Ichigaya fish center
 
I went to Ichigaya Fish Center was Sunday in early July and Saturday of the following week.
In the case of
The first time was not yet rainy season, it was cloudy cloudy sky, sometimes rainy day, but the temperature was not low, so it was a pleasant day if it did not shake even rain.
 
Second time. On that day the rainy season was over and it was a very hot day.
It was a pleasant climate until a couple of days ago, so it was an extra hot day. It was a sunny weekend for the first time in a while. So the Fish Center was too crowded to be compared to the week before the weather was bad.
 
Still "Mini Fishing" is just a good congestion, "Carp fishing" still has plenty of capacity.
In the case of
When we compared the first and second times it was totally different weather. I think that the fishing spot will get crowded in a good season for anyone to fish outside. But I think "Carp fishing" will never be full so that fish can not catch because of congestion.
 
 
However, because there are few places in the shade, fish fishing under the hot weather of midsummer will be quite severe. 
 
Ichigaya Fish Center's money talk · Cost performance
 
The Ichigaya fish center costs pretty much money.
That is why the neighborhood has reached 3.5.
 
For example, 2 adults and 1 child will be 2,530 yen (including rods, bait charges) in 1 hour.
In the case of
As I wrote earlier, if it is 1 hour of mini fishing + 1 hour of carp fishing, it will be 4,930 yen in 2 hours in total.
In the case of
Furthermore, if you enjoy a total of 3 hours of Mini Fishing 1 hour + Carp Fishing 2 hours, it will be 6,780 yen and it will be a very expensive expense.
 
Because the food charge is also 100 yen per one, purchase a single bait with a family. That way you can lower the price of 200 yen, but …. If it is only 1 hour, I will get used to fishing and it will be finished, so if I do not fish for about 3 hours in total, I feel feeling indigestion.
However, if it is three hours it costs nearly 7,000 yen. If you think so, it is not a place where you can feel free to go with your family.
 
 
In the first place I think that fishing is more cheap because it had a prejudice, but fishing is more costly than karaoke you went on that evening night.
 
「How to enjoy Toshimaen with great advantage – To Yahoo auctions and ticket shops!」Although I write such an article, if it is a cheap ticket, even if I play "Toshimaen" for 1 day, it costs less than 4,000 yen.
「In 2015 also to the rainbow pool of the National Showa Showa Memorial Park! Discount ticket information is also available.」
 
 
With "Rainbow pool" written in this article, even 3 family members are 5,900 yen per day. So 5,000 yen is slightly expensive in two hours. 
 
Well, if you buy one day ticket and enjoy fishing all day, it is 7,200 yen for 3 people a day. Cost performance is not so bad....
 
 
Total summary of Ichigaya fish center
 
Although being somewhat concerned about cost performance, it is in a place where transportation is also very convenient in the middle of the city. It is a merit that other leisure can not see to have a relaxing time.
 
The same as insect catch, parents catch a big carp and boast to their children! There is also a chance to be able to show the magnificence of such parents.(Lol)
 
 
Summer is hot and can not be relaxed. However, it is good to buy a one-day ticket in the early spring or autumn seasons and spend the day leisurely without worrying about time.
In the case of
Rather than going with a small child, leisurely with husband and wife after the child has grown up. It is my recommendation.
 
 
By the way, goldfish, floating grass etc are on sale in the back of mini fishing, as below.
River fish, tropical fish, reptiles, etc. are sold also in the store, you can just enjoy looking at it.


Thank you for reading to the end.
If you think that this article was helpful, I hope you can share it on social media!
Related article